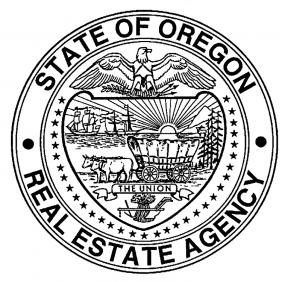 The Oregon Real Estate Agency (OREA) is the department of State government whose purpose is to provide quality protection for Oregon consumers of real estate, escrow, and land development services, balanced with a professional environment conducive to a healthy real estate market.
The Agency's responsibilities, administered by the Real Estate Commissioner, include:
Licensing and regulation of:

Real estate brokers, principal brokers, and property managers
Escrow and escrow agents
Real estate marketing organizations

Examination and education for brokers, principal brokers, and property managers
Course oversight of Agency-certified Oregon real estate education providers
Monitoring regulated activities in escrow organizations and real estate offices
Conducting investigations and hearings when complaints are filed against licensees, registrants, and real property developers
Continuing Education Requirements
+
The Oregon Real Estate Agency mandates that all real estate licensees must take a minimum total of 30 continuing education (CE) hours, per renewal period. This includes a 3 hour Law & Rule Required Course.
Rules & Requirements - The Oregon Real Estate Agency
Per, the Oregon Real Estate Agency...
All licensees are required to maintain their own CE records and keep all certificates of attendance for three years after a renewal period. You will enter your CE information via their e-License portal when renewing your license.
All CE must be provided from a Certified Continuing Education Provider.
All CE must fall under a required topic.
CE Certificates

Following each OAR CE course, CE certificates will be available via your Member Profile within a week.
If the course was not hosted by OAR, you will need to follow-up with the appropriate Certified Provider for questions.
We have provided this quick reference guide with directions on completing and tracking your 30 hours of CE each renewal period using the OREA record-keeping form and OAR certificates.
Past Courses
OAR only has records of the courses you have taken with us. If you have taken a course with another Certified Provider, you need to follow-up with them for questions.
Licensing Requirements
+
All real estate licenses are obtained through the Oregon Real Estate Agency. The information below is provided on behalf of the Agency. Contact the Agency directly with any additional questions.
Initial Real Estate License
Real Estate License Renewal
Your real estate license must be renewed every two years. The renewal date is the last day of your birth month, every two years after you received your initial license. You must meet these requirements in order to renew:
Renew your Principal Broker License