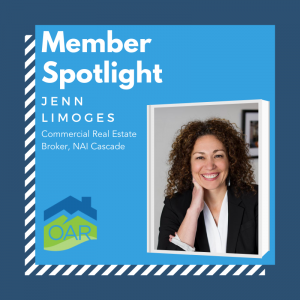 This month we spotlight OAR member Jenn Limoges from NAI Cascade in Bend, Oregon. Jenn got her initial start in Commercial Real Estate, CRE, in the late 90's working as a receptionist for a commercial property management and leasing firm in Bend. Jenn became involved in finding and leasing spaces for a business development in Seattle and Phoenix. In 2013, she moved back to Bend to become a Broker, "I wanted a new challenge. I wanted the freedom to make a great living and set my own hours."
Jenn was interested in expanding her skills in real estate by taking the CRE designation. Her advice to anyone interested in commercial real estate, "Have two years of income saved up and get a mentor." She adds that it is also beneficial to specialize and choose a specific vertical of CRE if your market is large enough.
She believes it's important to get involved in the industry. She has been on the board of Central Oregon Association of REALTORS® for the past two years, a committee chair for the past four years and has attended most National Association of REALTORS® conferences over the last four years.
Earlier this year, Jenn accepted an award from NAR for achieving the 5-star accreditation for COAR Commercial Committee. For those wanting to do more she recommends, "get involved in committees and organizations where you can make a difference."
Jenn loves the outdoors and spends her free time skiing, snowboarding, hiking, running and reading. Her bucket list includes traveling, traveling, and traveling. Here's to traveling the world, Jenn!